Corail a été élevé par différentes personnes d'influence à Port-Aux-Cornes, n'ayant pas connu ses parents. Dès son plus jeune age, on lui a découvert une force et une agilité surprenantes. Ayant de très gros doigts, tout le monde fut pris de court lorsqu'il suivi le chemin de la joaillerie. Ses talents se développèrent et il devint l'un des plus lucratifs bijoutier de la région.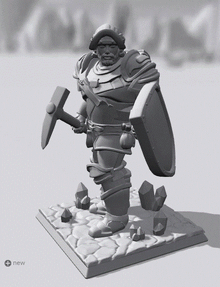 Non seulement ses créations étaient convoitées, mais Corail avait un don pour créer un besoin chez ses clients, qui étaient alors prêts à payer plus d'or pour les objets.
Étant sous la protection d'un homme très près d'Arthur Montelli qui s'occupait des finances de la ville, Corail fut facilement disposé à suivre les pas de son maître et devint, suite à sa mort, responsable des finances à son tour.
Pour une raison que Corail ignore toujours jusqu'à ce jour, les créations qu'il fait possèdent des pouvoirs qui, si bien maîtisées, ont la capacité de changer le cours d'une bataille.
Récemment, Corail a joint la Légion Dorée et a juré de protéger le monde des hommes contre les créatures qui le menace.
Ad blocker interference detected!
Wikia is a free-to-use site that makes money from advertising. We have a modified experience for viewers using ad blockers

Wikia is not accessible if you've made further modifications. Remove the custom ad blocker rule(s) and the page will load as expected.